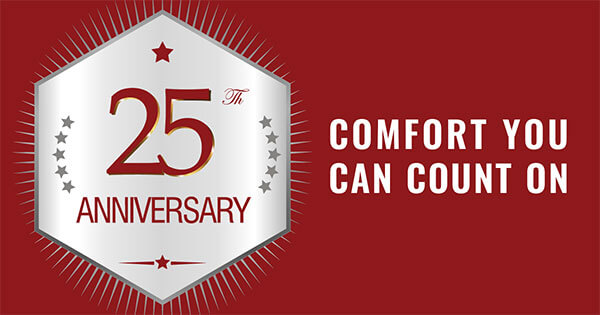 Girard Heating & Air Conditioning Celebrates 25th Anniversary
Steve Girard, President of Girard Heating and Air Conditioning
Wow, that 25 years went by fast! It seems like just yesterday we were opening our doors for the first time in Westfield, determined to deliver a combination of premier, energy efficient product lines with service that exceeds our customers' expectations.
I often try to emulate the standards that Al DiStefano (the founder of Westside Air Conditioning) instilled in me. I have always been motivated to take care of our customers because I may see them in the grocery store and I didn't want to have to hide from anyone.
I started my career when I traded in a summer accounting position for a job with Westside Air Conditioning after my freshman year at Westfield State University. After working as an installation foreman for another company, I took advice from Mike Molta of Molta Construction to start my own business. I wanted to be in control of my own fate and Mike gave me the opportunity to make that possible.
The satisfaction of our customers is what has driven us for the last 25 years. For example, one of our customers, Ruth Moxon, recently shared this story with us: "Yesterday, a gas company truck pulled up in our driveway. The fellow said he needed to check our meter, both outside and inside, as there might be a leak somewhere or a malfunction. It seems the real reason he was checking our system is because our gas usage dropped too much last year! Apparently, it's all Girard's fault that our furnace is so efficient and has lowered our monthly usage that the gas company actually had to come out and check it themselves."
Through years of hard work and dedication to customer service, we have gained the recognition of Diamond Dealer by Mitsubishi® Electric. Learn more about our products and services at girardheatcool.com.
Join us in celebration and call today for our free heating and air conditioning inspections.