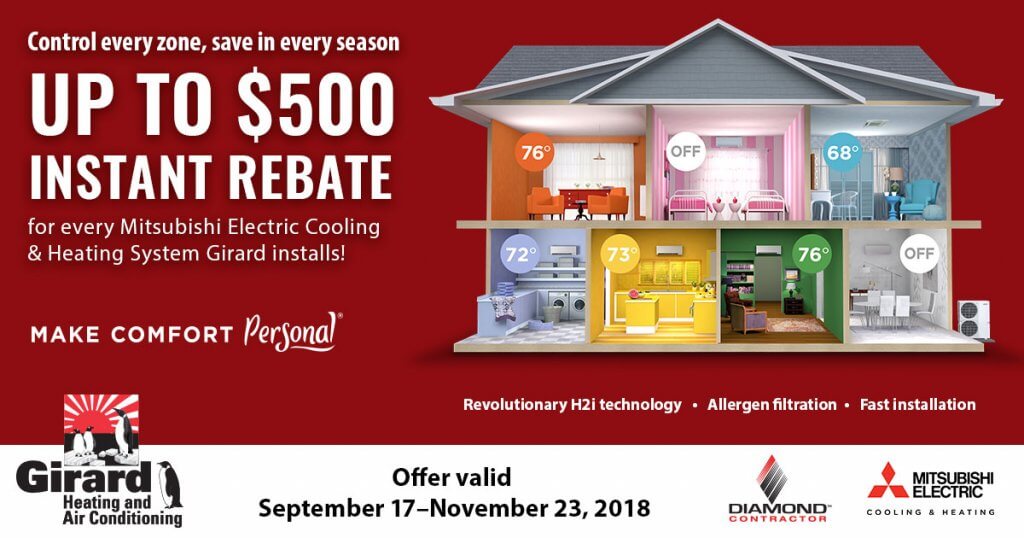 Fall 2018 Mitsubishi Rebate Program
We are excited to announce that the Fall 2018 Mitsubishi Rebate Program is available to customers who purchase a qualified Mitsubishi Electric Cooling & Heating System between Sept. 17 and Nov. 23 and have Girard Heating and Air Conditioning perform the system installation by Dec. 7.
The following rebates are available by purchasing the following:
$100 for each Single Zone Heat Pump System
$200 for each Hyper Heat Single Zone System
$300 for each Multi-Zone System
$400 for each Hyper Heat Multi-Zone or 8-Zone System
$500 for each P Series (residential applications only)
This is a fantastic time to install one of these systems—ahead of cooler weather in the fall and before a winter cold snap—especially if you have an older home. Mitsubishi systems heat your home while improving indoor air quality and they can be quickly installed by our team.
Mitsubishi Electric is the industry leader in split-ductless air-conditioning technology. It delivers the ultimate in comfort control for your home or office through quiet, easy-to-use, and energy-efficient operation of its systems.
Mitsubishi Electric's advanced climate control systems enhance customers' homes and lives. It is also easy to set the desired room temperature with zoned smart-control functionality.